CitiTrader is a decent broker but there are some concerns that may mean you can do better. This is another SpotOption white label, based in Bulgaria and not regulated. The broker is operated by Brevspand Ltd with global offices, at least global telephone numbers, listed around the world. The reason why I think you can do better is because there are a couple of much better-established binary brokers that also use the SpotOption platform. This doesn't neccesarily mean that you shouldn't use it, there is also at least one benefit, CitiTrader still accepts U.S. traders. The catch is that you will be limited in what you can trade and by that I mean they don't let you trade One Touch, big deal.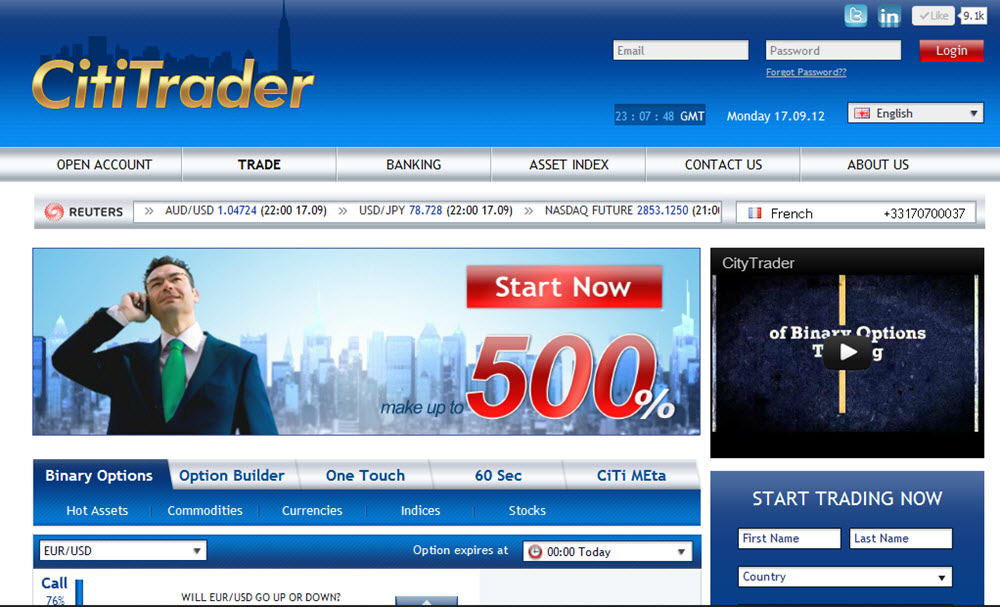 The Platform Is Good
The platform used is SpotOption. It is one of the best platforms out there and comes with many advantages. This does not mean that all brokers using the platform are the same. CitiTrader is one that utilizes the platform almost, and I say almost, to the fullest. The asset list is as complete a one as you will find among any broker/platform combination. There are dozens of international stocks, 14 forex pairs, 28 global indices and 6 commodities. This is not the best list I have seen but when you go and check which of these are actually available for trading you will know what I mean. All to often a broker will make an asset list as long as your arm only to put severe restrictions on when and what is available. When I logged into CitiTrader at 10AM ET just about every asset was available.
As for trading there are standard Call/Put binary options, One Touch, Option Builder, 60 Second and what they call CitiMetaTrader. U.S. traders will not be able to trade the One Touch but everything else is there. The Option Builder is a feature that allows you to choose a precise risk and reward ratio so you can fine tune your trading, maximize profits and limit losses. 60 Second options expire just one minute from the time of purchase but there are many, many more expiries available. The CitiMetaTrader is just a new name for the same the old thing you will find on any SpotOption broker. It is called things like ProTrader or SpeedTrader but is nothing more than a different way to trade calls and puts. Expiry is one of the ways in which SpotOption brokers really stand out from the rest. Expiry ranges from 60 seconds, to several intraday expiries to end of day, end of week, end of the month and on out until the end of the year on some assets. Not all expiries are available on all assets but there are plenty available for each.
Terms Of Trading
The terms are one area that I highly recommend anyone read before signing up with a new broker. Many misunderstandings can be resolved before they happen if you do. This broker has a minimum deposit of $300, not really high but also not the lowest. Minimum trading is $5 per asset. Deposits can be made by credit card, debit card, wire or MoneyBookers. MoneyBookers may be the best and fastest way to deposit with any broker. There are bonuses available depending on your status so be sure to check when you sign up. The basic terms for the bonus include a 30X Deposit+Bonus trading minimum, not unusual but a little high in my opinion based on what I have been seeing otherplaces. I don't usually recommend taking a bonus anyway and I don't do so here either. Withdrawals require proper ID and other proofs, once accepted most withdrawals will process in 3-5 business days (according to the terms) but wires may take up to 10 business days or longer. MoneyBookers withdrawals are supposed to be much faster than either. There are no fees for withdrawals which is one extra you won't find many places.
Extras, Drawbacks And Conclusions
There are a few extra's presented by this broker. You can trade Bitcoin/USD binary options. Not all brokers have this hot new asset. U.S. traders can trade here although there are a few restrictions on them. Asset availability is good, when the corresponding market is open you should be able to find a binary option available. Do these make the broker a good choice, I am not sure. There are better SpotOption broker on the market, and some of those are CySEC/EU regulated which for EU traders, is the best choice. My conclusions, CitiTrader is worth checking out and could certainly be the answer for you if other brokers are not to your liking.