It used to be common that binary options brokers offered large bonuses to new customers that opened an account and made a deposit. This is no longer the case. There are still brokers that offer bonuses but they are fewer then they used to be in the past. This might sound like bad news if you are looking to earn a big bonus but it is actually a good thing. It is a part of the industries attempt to clean itself up and to make sure that no one gets tempted to trade these options due to a large bonus.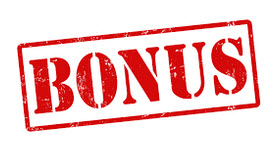 Binary options brokers that are regulated under CYSEC (Cyprus Security Commission) are not allowed to offer bonuses. It is likely that other trader-friendly jurisdictions will follow suit and will ban bonuses. It is, however, unlikely that all jurisdictions will ban bonuses.
Right now there are still a number of different brokers that offer bonuses. Below we are going to look at what you should think about before you accept any bonus. Accepting a bonus without understanding how they work is a very bad idea.
Should I chose a broker that offer a large bonus?
No. I do recommend that you chose a broker based on the bonus they offer. Your goal should always be to find the broker that offer you the best selection of options, the broker that offers you the best chance to make money. The size of the bonus will have very little effect on your account balance if you choose a broker where you can make money. You will quickly earn a lot more money than any bonus will give you.
A bonus does therefore not give you an incentive to register with a broker that gives you a lower chance of success. I think you should completely ignore the bonus when you decide which broker you want to use to trade with binary options. Once you have chosen one you can accept the bonus they offer.
Can I get a better bonus than the one advertised?
Yes. It is sometimes possible to get a better bonus than the one the broker advertises on their website. It might also be possible to get a bonus even if the broker doesn't offer any. You are more likely to be able to negotiate your own bonus if you want to deposit a large amount of money but you might be able to do it even if you only want to deposit a smaller amount.
If you want to negotiate your own bonus you should contact an account manager and try to negotiate a bonus directly with them.
What should I think about before accepting a bonus?
A binary options bonus is not free money. You can not do what every you want with the money and you can not withdraw it. When you accept a binary options bonus you accept a number of terms and conditions that needs to be fulfilled. It is very common that you will be unable to withdraw any money (bonus or deposit) until you met the terms and conditions for the bonus. It is very common that these terms and conditions require you to trade binary options for a certain amount of money before you are able to withdraw your money. How much money you need to trade for can vary between different brokers.
Always read and make sure that you understand the terms and conditions before you accept any bonus.
Why I recommend that you do not accept any bonus!
I do not recommend that you accept any bonus. A bonus locks you to that broker until you have met the terms and conditions. To do so you often have to turn over large amounts of money before you are free to withdraw your money. Before you do so you are not able to stop trading or change to another broker.
It can be very hard to make money if you are trading in a broker you do not want to trade in. To do so often lead to large losses. I therefore recommend that you never accept any bonus so that you have the freedom to withdraw your money or move it to another broker whenever you want. If you like the broker and is able to earn money then you will quickly earn the value of the bonus. If you do not like the broker then you are going to be thankful that you did not accept any bonus.
If you find a bonus you do not want on your account then you have to contact customer service to get it removed. Do not do any trades before the bonus is removed. Once you have traded while the bonus is in your account then it is no longer possible to get it removed.